Q: Why Does the Left Hate Glenn Beck?
A: For the same reason they hate Rush Limbaugh, Fox News and Sarah Palin… They are all effective at getting out the truth to the widest audience!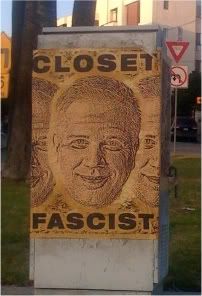 Curt was doing his rounds of a dodgy neighborhood in Los Angeles when he came across a poster defacing a public utility box (see right).
It's typical of the kind of buffoonery you see in any large city where left wingers gather. And as usual, it says much more about them than it does the target of their attack.
The real "fascists" here are those who want to shut down any voice which dares to oppose their radical plans to remake America as a socialist, even Marxist, country. And Glenn Beck has been on the front lines of the handful of right of center media outlets exposing their plan.
Beck was reporting on ACORN corruption long before the tapes surfaced of ACORN workers advising a purported pimp and prostitute on how to avoid paying taxes and smuggle underage girls into the country for prostitution. Beck also led the charge in exposing the avowed communist Van Jones, Obama's "green jobs" Czar.
Now, Beck is exposing the influx of people with ties to radical Marxist groups into the ranks of the Federal Communications Commission whose job it is to "regulate interstate and international communications by radio, television, wire, satellite and cable." You are reading this blog now only because the FCC permits it (for now).
Obama's FCC Chairman, Julius Genachowski, has chosen Jen Howard to serve as his spokesperson. Howard comes from a group called Free Press whose mission is to "Reform media. Transform democracy." The group claims to be "non partisan" which in this case means they welcome Marxists, Communists and revolutionaries of all leftward stripes. The conferences they sponsor read like a who's who of the radical left.
The group's founder, Robert McChesney, is unmasked in this one paragraph from an interview with a Canadian group called the Socialist Project:
Instead of waiting for the revolution to happen, we learned that unless you make significant changes in the media, it will be vastly more difficult to have a revolution. While the media is not the single most important issue in the world, it is one of the core issues that any successful Left project needs to integrate into its strategic program.
McChesney believes that the state should control all media and subsidize it so that evil corporations and the profit motive (measured by how many people watch, listen or read the media product) is no longer a factor. Haven't we already heard inklings in congress for the first phase of such a subsidy program?
Glenn Beck has also been on the forefront exposing Mark Lloyd, who Obama appointed"Chief Diversity Officer" at the FCC. A job created just for him. Lloyd is another anti-capitalist radical who supports the idea of state owned media. In his 2006 book entitled Prologue to a Farce: Communication and Democracy in America Lloyd sums up his philosophy this way: "my focus here is not freedom of speech or the press. This freedom is all too often an exaggeration."
Remember that Loyd is the man who praised Venezuelan dictator Hugo Chavez's ongoing effort to crack down on opposing media in that country. He called Chavez's work an "incredible revolution – a democratic revolution." Meanwhile, day after day groups like the Committee to Protect Journalists and other press freedom groups condemn the destruction of press freedom in that country.
I'll let Glenn sum this up in his own words. If you are not familiar with Glenn, after watching this you will understand why the left wants to shut him down or shout him down:
Imagine for a moment if President George W. Bush (don't you miss him?)had installed at the FCC a cadre of right wing Christians whose soul mission in life was to eliminate every leftward voice that disagrees with them? Imagine if Republicans in congress supported those goals with legislation that would subsidize those with approved viewpoints? There would have been riots in the streets.
Obama is slowly installing the people and plans he needs to "reform" freedom of the press. What better group to serve as the embryo for this change than a Marxist outfit that conveniently calls itself "Free Press?" But what is "free" for them, is tyranny to all others!

also:

Dare To Question Global Warming Fanatics? Prepare To Be Thrown Out
Al Gore recently had a conference with members of the climate media and actually took questions….which he almost never does. I guess he was confident that most of the climate media would fawn over him.
Only problem was that Phelim McAleer, the maker of Not Evil Just Wrong, showed up and as some liberals are known to do when the questioning gets tough….the organizers cut his mike as he asked some tough questions of Gore:
All Gore could do was hem and haw and then go back to his typical backup. Polar bears…..what about the polar bears!
Retarded.
And his claim that the courts vindicated his movie? Not so true:
One day before Friday's announcement that he was a co-winner of the Nobel Peace Prize, a British High Court judge ruled that Gore's global warming film, "An Inconvenient Truth," while "broadly accurate," contained nine significant errors.

The ruling came on a challenge from a UK school official who did not want to show the film to students. High Court Judge Michael Burton said that the film is "substantially founded upon scientific research and fact" but that the errors were made in "the context of alarmism and exaggeration."

Burton found that screening the film in British secondary schools violated laws barring the promotion of partisan political views in the classroom. But he allowed the film to be shown on the condition that it is accompanied by guidance notes to balance Gore's "one-sided" views, saying that the film's "apocalyptic vision" was not an impartial analysis of climate change.
He hangs his hat on the fact that the movie was allowed to be played as long as notes were presented to the class that balances Gore's one-sided view and exposed all the errors?
That's what he's proud of?
What Phelim says at the end of that video bears repeating:
At the Society for Environmental Journalists, the reaction of the journalists, the reaction of Andrew Revkin of the New York Times, the reaction of the journalists, was to shut down the journalists and protect the politicians.

What I would like of environmental journalists like myself is that you treat Big Environment the same way as you treat Big Politics, and Big Government, and Big Business. Y'know, treat Big Environment the way you treat Big Business. Where does the money come? Who's channeling it? …. Where is the independent verification of those claims? But they don't. If an environmentalist organizer says something, it's accepted as gospel.
Phelim is on a roll….here he is questioning those going to a premier of a global warming alarmist movie and gets thrown out.
The hypocrisy is unbelievable.
Scientists……give me a break.
Finally
Krauthammer – "The current liberal ascendancy in the United States..has set us on a course for decline"
What a speech by Charles Krauthammer:
Nothing is inevitable. Nothing is written. For America today, decline is not a condition. Decline is a choice. Two decades into the unipolar world that came about with the fall of the Soviet Union, America is in the position of deciding whether to abdicate or retain its dominance. Decline–or continued ascendancy–is in our hands

Facing the choice of whether to maintain our dominance or to gradually, deliberately, willingly, and indeed relievedly give it up, we are currently on a course towards the latter. The current liberal ascendancy in the United States–controlling the executive and both houses of Congress, dominating the media and elite culture–has set us on a course for decline. And this is true for both foreign and domestic policies. Indeed, they work synergistically to ensure that outcome.

The current foreign policy of the United States is an exercise in contraction. It begins with the demolition of the moral foundation of American dominance. In Strasbourg, President Obama was asked about American exceptionalism. His answer? "I believe in American exceptionalism, just as I suspect that the Brits believe in British exceptionalism and the Greeks believe in Greek exceptionalism." Interesting response. Because if everyone is exceptional, no one is.

Indeed, as he made his hajj from Strasbourg to Prague to Ankara to Istanbul to Cairo and finally to the U.N. General Assembly, Obama drew the picture of an America quite exceptional–exceptional in moral culpability and heavy-handedness, exceptional in guilt for its treatment of other nations and peoples. With varying degrees of directness or obliqueness, Obama indicted his own country for arrogance, for dismissiveness and derisiveness (toward Europe), for maltreatment of natives, for torture, for Hiroshima, for Guantánamo, for unilateralism, and for insufficient respect for the Muslim world.

Quite an indictment, the fundamental consequence of which is to effectively undermine any moral claim that America might have to world leadership, as well as the moral confidence that any nation needs to have in order to justify to itself and to others its position of leadership.

The liberal internationalism of today is different. It is not center-left, but left-liberal. And the new left-liberal internationalism goes far beyond its earlier Clintonian incarnation in its distrust of and distaste for American dominance. For what might be called the New Liberalism, the renunciation of power is rooted not in the fear that we are essentially good but subject to the corruptions of power–the old Clintonian view–but rooted in the conviction that America is so intrinsically flawed, so inherently and congenitally sinful that it cannot be trusted with, and does not merit, the possession of overarching world power.

For the New Liberalism, it is not just that power corrupts. It is that America itself is corrupt–in the sense of being deeply flawed, and with the history to prove it. An imperfect union, the theme of Obama's famous Philadelphia race speech, has been carried to and amplified in his every major foreign-policy address, particularly those delivered on foreign soil. (Not surprisingly, since it earns greater applause over there.)
Short video of the speech while the whole thing can be viewed here.
He is completely on the mark here and it should scare the bejesus out of you.
More here.